A Standalone Briarcrest Academy Novel #3
by New York Times best selling author Ilsa Madden-Mills
Release Date: March 1, 2015
A sassy violinist who lives next door. An obsessed rock star who watches her through binoculars. And one night when she bares it all. Life will never be the same in Tinseltown.




Vital Rejects

front guy Sebastian Tate never imagined his YouTube music video would go viral, sky-rocketing him to acting success in Hollywood.

Okay, maybe he did.

After all, he's a cocky dude who knows he's hot-as-hell, and it was only a matter of time before his stars aligned.




But life in Tinseltown is never what it seems.




After being cheated on, his only rule to falling in love is simple:

Keep Calm and Don't Do It.

Spying on his mysterious new neighbor with binoculars seems innocent enough, but quickly escalates into an erotic game between two very unlikely people.




Twenty-year-old Violet St. Lyons is a world-renowned violinist who's lost her mojo on stage. She hides away in a Hollywood mansion, trying to find her way through her twisted past in order to make her future.




He's the life of the party with girls chasing him down for his autograph. She's the introvert with a potty mouth who doesn't even know

who

he is.




When they meet, stars collide, sparks fly, and clothes come off. Yet, giving his heart to a girl isn't Sebastian's plan; falling for a guy who craves attention isn't Violet's.




Welcome to Briarcrest Academy—Hollywood style—where sometimes the best things in life are

VERY TWISTED THINGS.




This is a standalone New Adult novel with graphic se

x and language.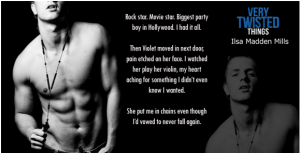 My Thoughts:
This is the first book in this series or by this author I've ever read, even though Very Twisted Things is the third book in this series. I don't usually start in the middle but since this is a standalone and I really loved the cover and blurb both, I decided that I may as well start this series with this book. I've always wanted to read it, but I never got the chance to before.
Now that I have gotten a taste of the Briarcrest Academy series, I know I'll be reading the previous books. I loved Very Twisted Things and all the emotions it made me feel. Violet and Sebastian have both gone through a lot in their life, both losing people they love and having demons of their own, but no matter what they want or how hard they try, they can't stay away from each otber.
This book made me feel a lot of different emotions. I was sad when I read about what happened to Violets parents, and then I found myself grinning and giggling over Sebastian. He's very charming with just enough bad in him to give him that alluring quality that no one can say no to, and he knows how to make a girl swoon over him. Violet is vey sad and lonely and I liked her a lot. She was trying to survive and live through her guilt, but life id hard and sometime it takes us a long time to finally make that finale step that changes everything.
Very Twisted Things sucked me in from the start and the characters kept me hooked to the story. The writing was very effortless, light and witty and made me smile even when the situation wasn't funny, but it also made me tear up and my heart hurt, and then fan myself from all the steamy and hot moments between Violet and Sebastian.
For fans of angsty read with a pinch of wit, then Very Twsites Things is the perfect read for you.
Rating:
Excerpt (Prologue + Chapter One):
Author Bio:
New York Times and USA Today best selling author Ilsa Madden-Mills writes about strong heroines and sexy alpha males that sometimes you just want to slap. She spends her days with two small kids, one neurotic cat, and one husband. She collects magnets and rarely cooks except to bake her own pretzels. When she's not crafting a story, you can find her drinking too much Diet Coke, jamming out to Pink, or checking on her carefully maintained chocolate stash. She loves to hear from readers and fellow authors.
BUY HER BOOKS
HERE!
Facebook
-
Twitter
-
Instagram
-
Website